Testimonials
ITI GGs Miniature Horses and Cart have always left every family with big smiles on their faces, we are slowly collecting feedback and testimonials, but we strive to have very satisfied customers, mums and dads and children, wherever we go! To date we have never had negative feedback :)

From Melanie Bashford-Rossiter
''Milly adores riding sassy and is learning so quickly thank you Rebecca and sassy for being amazing teachers!''
posted 14th April 2015
"An absolute cracker of a day and all the kids LOVED the unicorn that

...

Popped in ! To the front door no less ! A big thanks and a double thumbs up for

Rebecca Iti

and Iti GG's.
We are so happy with everything you did x
posted 22nd February 2015
Melanie Bashford-Rossiter — 5 starFab , awesome , brilliant riding lessons for pre schoolers highly highly recomend ITI GGS for a 5 th birthday party about to be booked
posted April 14th 2015

Karina Wood — 5 starAnother amazing party thanks to Rebecca and her team! The ponies always go down a treat! Highly recommended!
posted 7th April 2015

Maria Cooper, kumeu
Rebecca has been teaching me how to drive a pony and cart (a lifelong dream!), and I have been thrilled with the experience. Rebecca makes our lessons informative and fun, and had me driving in next to no time.
Rebecca is both competent and professional, and Her lovely ponies are beautifully mannered, friendly and safe. I highly recommend ITI GGs!!
posted 21st April 2015

John Furey, Community Services, NZ Defence Force, Auckland
"Each year we run a children's Xmas party and ITI GGs Miniature Horses and Cart are a favourite with children of all ages. Rebecca and her team go the extra mile for the children and we will be using them again this year.
Highly recommended".
posted 22nd April 2015

Helensville Lions Club
I found ITI GGs professional to deal with and appreciated them being able to attend the Helensville Lions Roses Festival at short notice. After the event I was approached by a mother with children who'd had pony rides on the day to say how great ITI GGs were and how much the children had enjoyed their rides. The Helensville Lions are extremely grateful for you giving up your time and making the day more enjoyable for many children.
posted 22nd April 2015


Ruth Jackson
My kids and I met Rebecca and her ponies at a friend's birthday party, where they were giving saddle and cart rides. My kids absolutely loved riding the ponys, with my nearly 2 year old son lining up to ride 6+ times. I then decided to give my son some lessons for his second birthday. He and his 5 year old sister are now both hooked and we try to make a weekly/fortnightly lesson that they share. The ponies are all very well natured, but with different personalities, which the children enjoy. Rebecca is clearly experienced and tailors the lesson both to the child's ability and confidence. We always have a good experience :-)
posted 15th May 2015


Olivia Kumaran
Rebecca is an amazing teacher, and her horses are beautiful. My girls love their lessons each week and Mr 8 has asked to start riding because the girls have so much fun.
posted 18th June 2015


Sarah Robins
The face says it all!! Rebecca & her girls did an amazing job at our daughter's 5th birthday party last weekend! They were really friendly & funny, and kept ALL the kids, (young and old ... girls AND boys) thoroughly entertained for almost 2 hours. Fantastic value and our Miss 5 can't wait for more lessons on the adorable Sahara and Cameo. Thankyou ladies, you were fabulous!
posted 6th September 2015
Michelle
Thank you so much for today, the girls had such a fantastic time and haven't stopped talking about it :) She loves her present too, and hasn't stopped brushing it this arvo !
will do a fb review for you:)
posted 24 September 2016
Lily - Still water Raft Race organizer
Awesome Rebecca. Lots of great feedback and they would love you back next year! (we have already been given the booking)
posted 12th March 2017
Anna Thompson
Hi Rebecca,
just wanted to say a HUGE thank you for today! You made ...Isla's 5th birthday AMAZING! As always you were so good with the kids, having fun, always smiling but never forgetting their safety... it was a pleasure to have you with us today. Your horses are all so beautiful but I have to say Sahara took the cake today with his unicorn costume - rainbow saddle, rainbow mane & tail, metallic purple painted hooves & hearts = MAGICAL!!! Childhood memories are made of these!
posted 31st Oct 2015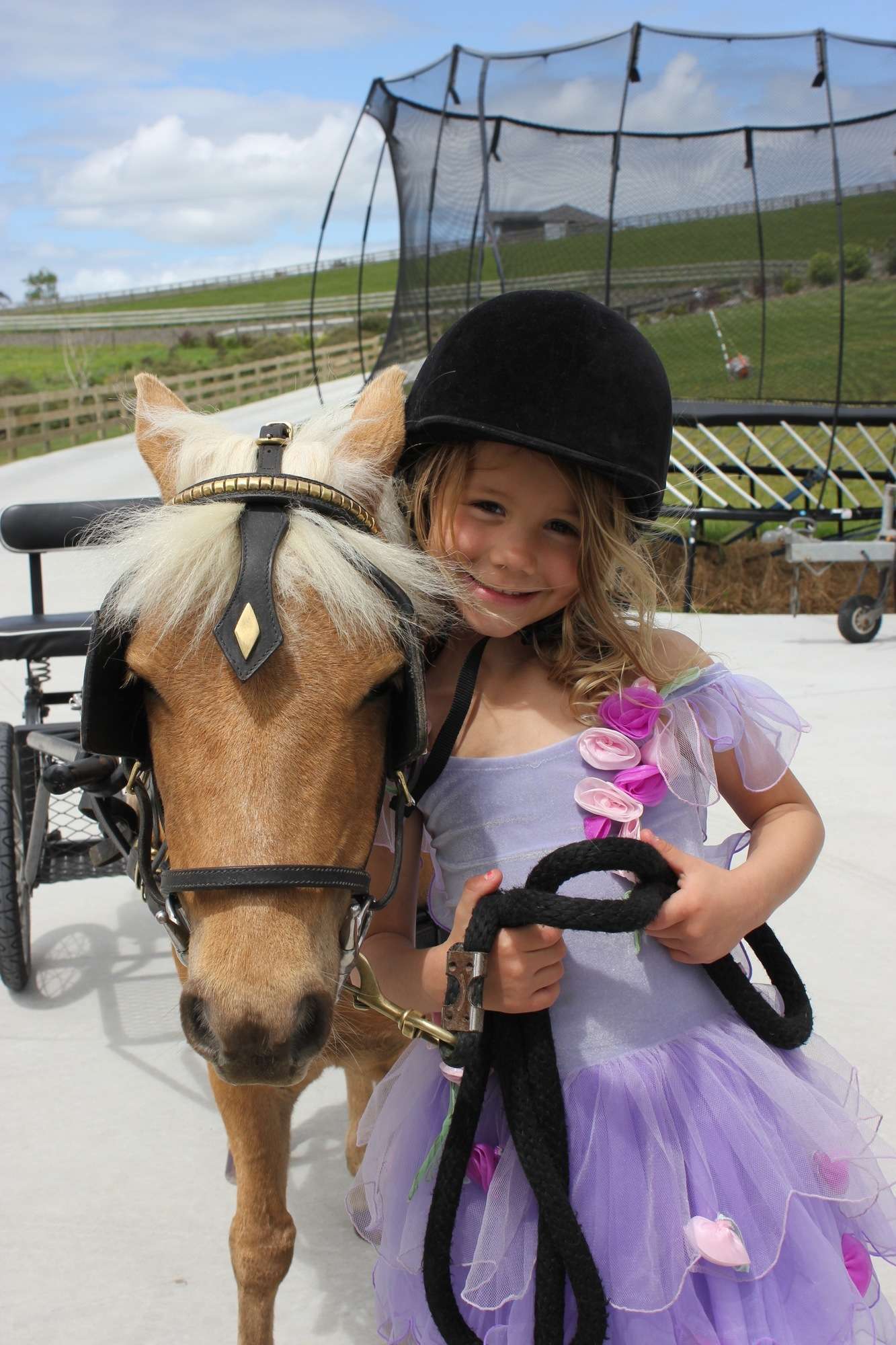 Lynn Swiggs, Field Events Lead - Willow Park School Gala Committee
On behalf of Willow Park School, I would like to say a huge thank you to you and your team for making our gala such a success on Saturday and at such short notice. If it wasn't for teams like yours this would not have been possible. This includes your beautiful animals that kept our kiddies occupied on an extremely hot day.

Thank you for going above and beyond and helping me with hay bales. This meant one less job for me!

We look forward to working with you again in the future and will definitely be recommending you whenever we can.
Kind regards
Lynn Swiggs
Field Events Lead – Willow Park School Gala Committee
posted 11th Nov 2015
Lisa Joe
Hi Rebecca, thanks for your awesome service yesterday, the kids had a blast, and we all think you do a wonderful job of looking after your ponies. Its little wonder they are so tame and obliging! Cheers Lisa. The little girl in the photo says its fine to use her photo for the website.
posted 17th January 2016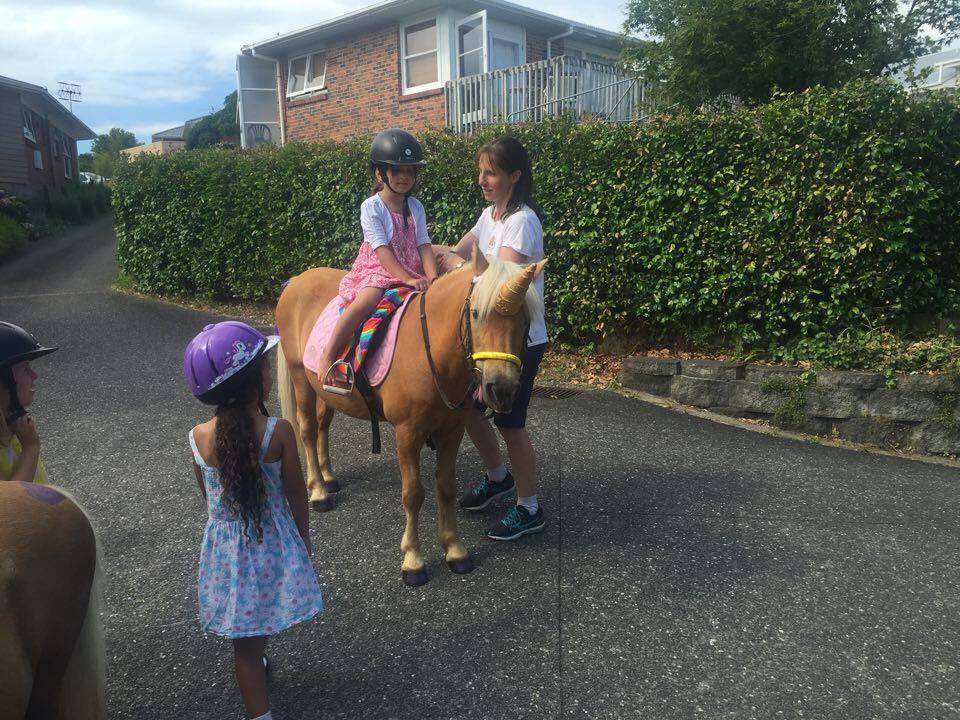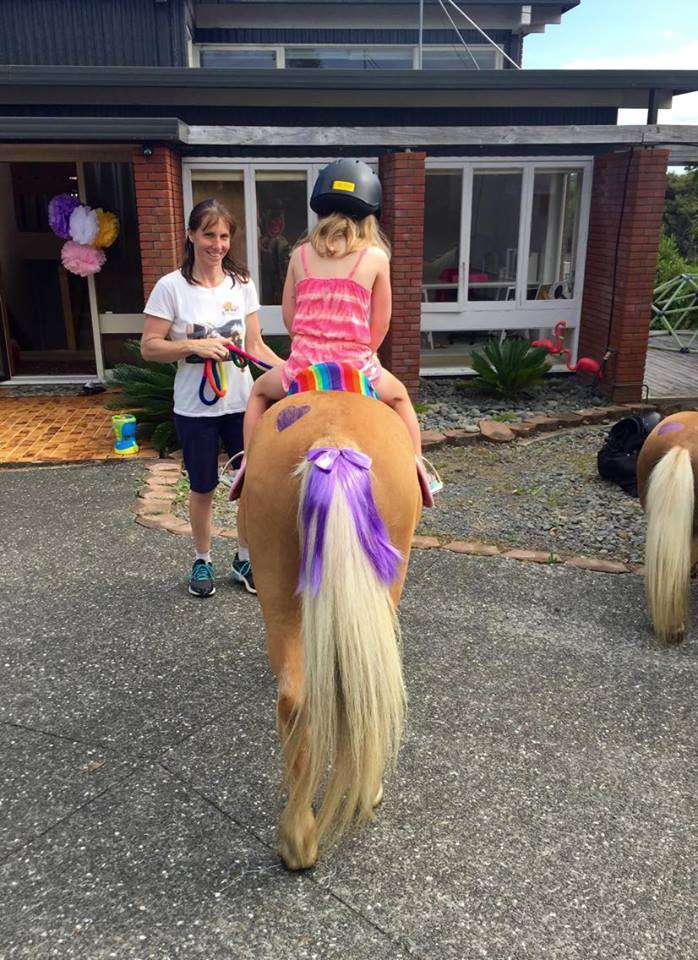 Photo used with permission.
Tasha Emily
We had 2 horses come to our daughter's 2nd birthday. Absolutely fantastic experience, great customer service, very friendly and professional. Kids all had a blast and great we had the option of saddle and cart. Would highly recommend
posted 27th March 2016
Claire Griffiths
My daughter had her 4th birthday with Cameo the Unicorn. Amazing party. Isla had the time of her life with all of her friends.
Cameo and Sahara did an awesome job. I couldn't rate them enough! It was the best party ever!
posted 23rd Oct 2016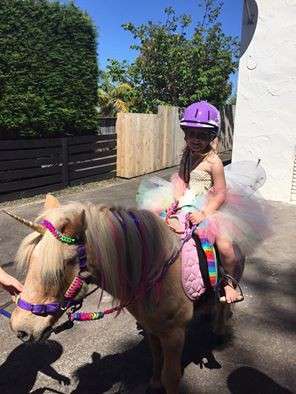 Janet -Girl Guide Pippins Leader
Hi Rebecca
Thanks so much for the session with the horses
on Friday
. It was a fantastic busy meeting time and all went very well.
posted 31st Oct 2016
Manawahera
Hi Rebecca,
I just want to say thank you so much for coming to my sons birthday! It was such a blast & he had an amazing time! So thank you so much!

Manawahèra Tupe
posted 23rd Jan 2017
Jasmine
Hi Rebecca, thank you so much for yesterday my girls loved it!!! :)
posted 23rd Jan 2017
Amy Brent-Jones
Such an awesome party! Great service and will highly recommend. Thanks again :)
posted 18th March 2018
Rosalind Hickman
We are so glad we chose ITI GGs for our daughters birthday party. The staff were lovely and the ponies so gentle and adorable. The whole experience was a pleasure and so easy from enquiring through to having a unicorn on our front lawn. Thank you Rebecca and ponies for such special memories.
posted 27th Sep 2018